The Lakes are proudly represented in the Vineland Inline Hockey League 14 to 17 Championship.
On Friday April 6th the Shire Gold Team in a 11 to 3 romp won the Landis Cup for the second year in a row. Collings Lakes is represented on this team by league high scorer and team captain Jay Sessions, assistant captain Sean VanAcker, Goalie Bill Ruggieri, Offense man Bill Rode, and Defenseman Dan Sessions. The team is lead by Collings Lake's residents head coach Don Sessions, and assistant coaches Tom Rode & Frank Soder.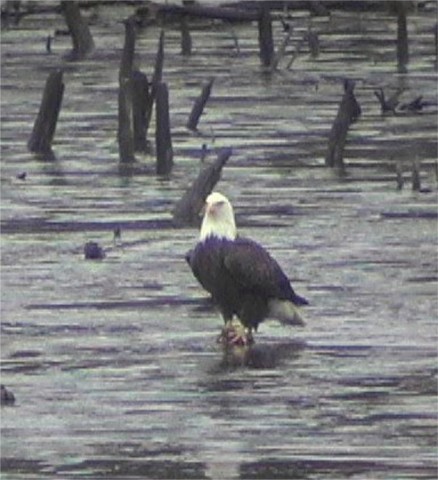 Eagle Eyes
This is a picture of one of our American Bald Eagles that are currently lining in the lakes area. If you've seen one of these beautiful animals please drop us a line and tell us about it, and remember a picture is worth 1000 words.

If you would like more information on the American Bald Eagles, click on the picture to the right.
2000 In Review
As an organization we are very proud of our accomplishments very the last 10 months.

Fines and violations that had the community in danger of losing our lakes were immediately taken care of, and corrected. Relationships have been established with all local government agencies involved with the area.

The amount of money available to the organization has been increased without raising membership fees, by simply cutting out the "middle man." Collecting fees internally has the organization saving collection fees of up to 50% per household.

We are in the process of repairing the dams after years of erosion and neglect. Just drive by first beach and you will see how volunteer efforts can move mountains. Besides the improvements to the beach area, we can also boast a newly surfaced basketball court, with lighting and electricity. Planning is already in progress to restore, and repair beach three and beach two respectively.

We have established avenues of communication and education that have been not been available in some time by restarting the Our Town Newsletter, as well as this web site, and an information packet available to local real estate agencies for new residents.

Finally we have begun to re-establish the tradition of community events, which were a strong part of the community in the past, with the hopes of sparking a feeling of civic pride in all of us.

As an organization we are anticipating an even better year in 2001, by expanding on the traditions of the area, taking advantage of our beautiful natural resources, and striving to make things better.
Help Wanted
So far this year has been full of new positive changes in The Lakes. A quick walk around the First Beach area will show you many of the obvious improvements. Have you see the view since the brush was removed, or shot some hoops on the new basketball court?

Have your or your children attended any of the community events like the teen bond fires, children's beach party, haunted forest, scare crow building, season opening bash, movie night, professional wrestling, Easter egg hunt, or children's fishing tournament?

Those of us who put these events together had a great time, and we'd like to more. We want your suggestions, but most of all we need your help. You'll be helping your community, and if your not careful you may have a good time.

Membership Fees
Since the inception of the C.L.C.A. in 1958 the yearly fee has always been $48.00.

This money is used for upkeep, repairs, insurance and taxes on the lakes and beach areas.

The Association is 100% volunteer, and has no paid employees at this time. Volunteers are always needed and appreciated.



You are responsible for payment of the fees from the time of your settlement date. Not before. It has been brought to the boards attention that many homes have been sold without the title company collecting past due fees from the seller.

This is not your responsibility.

To become a member in good standing send in only your past due amount along with proof of your settlement date, and your title company information.